Catholic Charities of Baltimore


I just want to take a minute to thank you again for your auction services Friday morning. Everyone always comments on what an excellent job you do and how you make it fun for our guests to bid.
We are grateful that you are willing to help us out!
Thank you again and hopefully we will see you again next year!!

---
Will & Emilee
Thank You for taking such great care of us during our home buying process.
We really appreciate everything you did for us and LOVE our new home!
---
Dillon

We had the pleasure of having O'Neill representing us during our first home purchase a few years ago. Cindy was our agent. Without question, she stood firmly as our representative during negotiations. Because of her, we were able to secure quite the deal on our first home.

Aimee, the owner of the agency, made herself totally available to us if we had any specific questions about taxes, titles, etc cetera that may extend beyond purchasing real estate, as her specialties fall across many fields.
While this review is entirely based on our experience from the real estate perspective, I have no idea how anyone could rate Aimee or her staff poorly in any aspect. She runs her company like her staff and clients are a part of her family. If you're on the fence about working with them, give them a shot and you won't be disappointed.


---

Susan

Aimee is an Awesome business woman and she treats everyone with dignity & respect.
She sold my home and she has prepared my taxes for years.
The staff in the office is exceptional!



---
Brad

Excellent full service brokerage.



---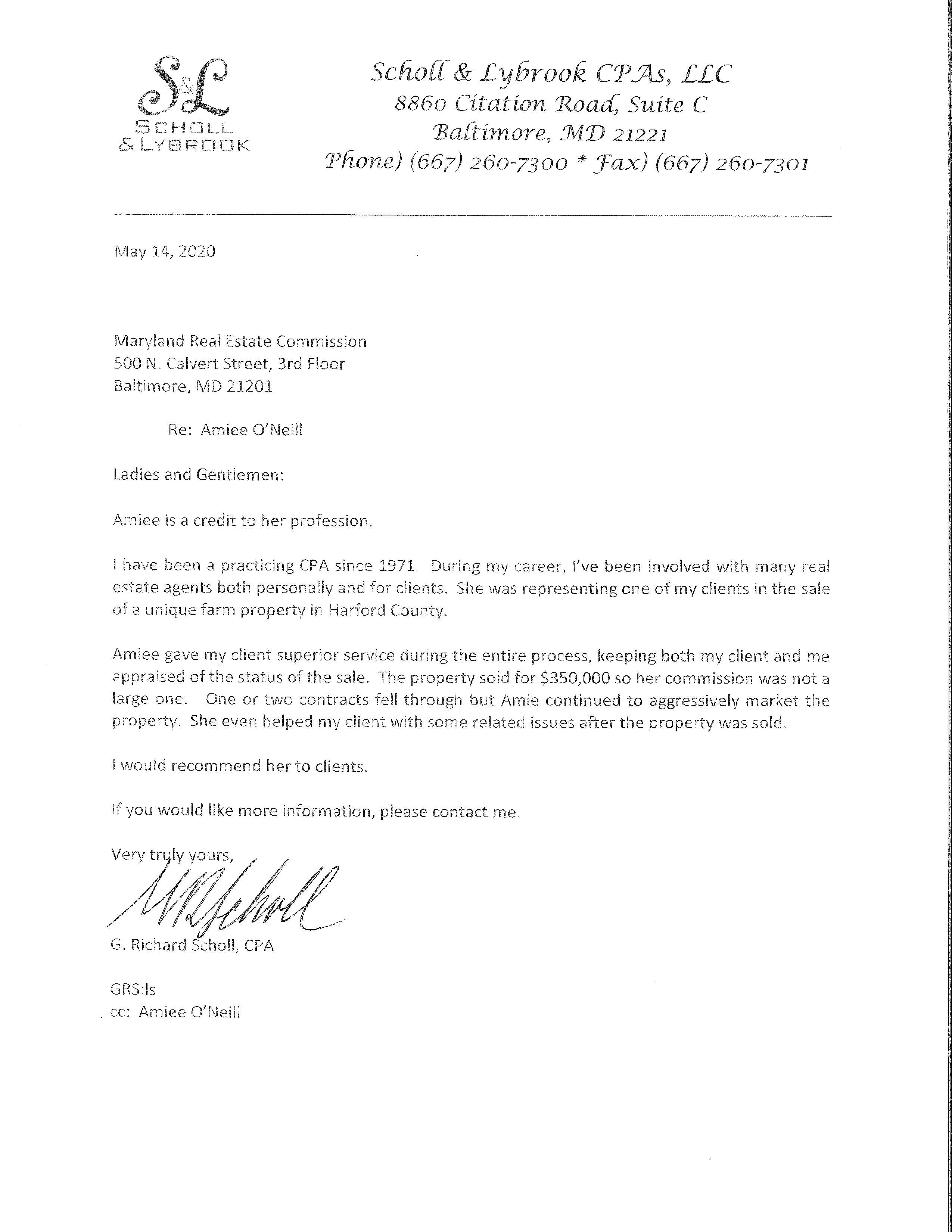 ---
Dear Aimee O'Neill,

Each year, Bright's Broker Rewards Program recognizes the brokerages who excel at providing the most accurate, up-to-date listing information entered in Bright MLS. The program is the tangible way we provide a return on their valuable asset – the listing. I am pleased to share that during the unprecedented market of 2021, 97% of listings entered into Bright MLS qualified for Bright Broker Rewards.

Based on the overall number of active, accurate listings entered into the MLS in 2021, you will receive $306.16.

This accuracy is a testament to the cooperation among brokers and agents who are Bright subscribers, one of the pillars of our organization. In addition, it is a testament to Bright subscribers' dedication and professionalism. Accuracy played a critical role as agents and brokers navigated the challenging market of 2021. Giving subscribers the most fulsome and accurate listing information played a direct role in propelling their business forward while making the dream of home ownership a reality for their clients.

Bright is launching a series of exciting updates throughout 2022 focused on helping brokers better manage office listings, offer more through Search, share more insights with their offices, and offer choices that will allow our subscribers to select the best products that work for them. None of these enhancements are meaningful without the availability of accurate listing information that powers Bright MLS.

Thank you again for your continued contributions, and ongoing partnership in making Bright the premier MLS in the country.


Regards,
Brian Donnellan
President & Chief Executive Officer
©2022 Bright MLS, Inc. All Rights Reserved.
9707 Key West Avenue, Suite 300, Rockville, MD 20850
---